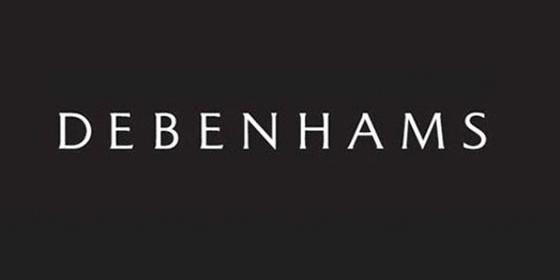 Debenhams Ireland Vouchers December 2023
All Debenhams Ireland discount offers
Never miss again a Debenhams Ireland voucher or sale offer!
Subscribe to our free newsletter.
VOUCHERS FOR SIMILAR STORES
About
Debenhams Ireland
Debenhams has 153 stores across the UK and Ireland and in total 240 stores in 28 countries all over the world. A fully transactional website at debenhams.ie , reflecting Debenhams' commitment to offering their customers greater value, a wider choice and excellent service across every area in which they trade. Debenhams is the second largest department store chain in the UK with over 17% of total UK department store sales and 153 stores.
Debenhams has been investing in British design for 21 years through its exclusive Designers at Debenhams portfolio of brands. Current designers include Abigail Ahern, Savannah Miller, Ted Baker, Jeff Banks, Jasper Conran, FrostFrench, Patrick Grant, Henry Holland, Ben de Lisi, Todd Lynn, Julien Macdonald, Jenny Packham, Stephen Jones, Preen, Giles Deacon, Aliza Reger, John Rocha, Ashley Thomas and Matthew Williamson.

Debenhams ireland has a strong presence in all shopping categories, including womenswear, lingerie, beauty, menswear, kids, electrical, home & furniture and gifts. They offer a unique mix of exclusive own brands, including Designers at Debenhams, and third-party brands.
How to redeem a debenhams.ie Voucher:
Please enter a Debenhams ireland voucher code directly in the 'Do you have a promotional code?' box on the shopping bag page and activate encashment by hitting the "Apply" Button. Discounts will be applied only if the code is valid and meets the minimum value required.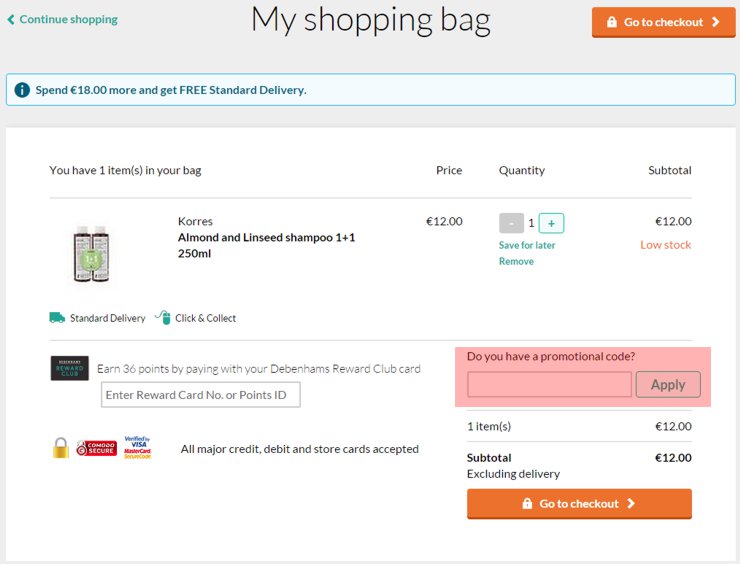 Address
Debenhams Retail (Ireland) Limited
54-62 Henry Street 
Dublin 1 
Ireland
Hotline
0818 784 877 (Monday to Friday 8:00 to 23:00 Saturday & Sunday 8:00 to 20:00)
Shipping costs
Northern Ireland
Free shipping
Republic of Ireland
Free shipping

Return policy
28 days
LATEST EXPIRED VOUCHERS
expired Free Debenhams Ireland Delivery on all orders over €30 at debenhams.ie
SAVE SHIPPING COSTS
Minimal purchase: 30€
Valid until: 01.01.2019
expired 20% OFF Debenhams Ireland
on Mantaray
USE DISCOUNT OFFER
Valid until: 18.11.2018
No code needed, applied automatically at checkout.