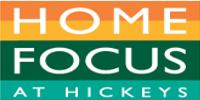 HomeFocus Ireland Vouchers March 2021
All HomeFocus Ireland discount offers
Never miss again a HomeFocus Ireland voucher or sale offer!
Subscribe to our free newsletter.
About
HomeFocus Ireland
HomeFocus story began in the 1940's in North Earl Street when Hickeys, a general merchants store, was obtained by Edmund Donnelly. Recognising a gap in the market Edmund developed the business into a fabric and haberdashery store specialising in fabrics from all over the world. His son Eamon Donnelly expanded the business by opening more stores throughout the country and the introduction of home textiles. The launch of their Home Focus at Hickeys stores in out of town retail parks in the late 90's allowed them to further expand their home textiles offering.
They now have 17 stores throughout Ireland. 4 Hickeys Fabrics stores and 13 Home Focus stores. Offering a range of fabrics, ready-made curtains, bedding, haberdashery and craft supplies. Both stores offer an expert curtain making and fitting service.
Today, Hickeys remains a family owned Irish business, now managed by Ian Donnelly, Edmund's Grandson. They are very proud of their strong traditions in fabric. Their philosophy of "affordable quality" along with their knowledgeable and experienced staff has seen them grow into Irelands premier retailer of fabrics and home textile.
HICKEYS FABRICS
They have 4 Hickeys Fabrics stores located in Dublin, Cork, Limerick and Galway.
Products available in Hickeys Fabrics stores:
- Dress Making and Craft Fabric
- Bridal Fabrics
- Knitting Wool
- Haberdashery
- Crafting Supplies
- Curtain Fabrics
- Blinds
- Curtain Rails & Poles
HOME FOCUS AT HICKEYS
They have 13 Home Focus at Hickeys stores located in Dublin (6 stores), Cork, Limerick, Galway, Kerry, Waterford, Wexford and Kilkenny.
Products available in Home Focus at Hickeys stores:
- Curtain Fabrics
- Ready Made Curtains
- Blinds
- Bed Linen (selected stores)
- Curtain Rails & Poles
- Decorative Accessories
- Craft Fabrics and Crafting Supplies (selected stores)
- Knitting Wool (selected stores)
- Haberdashery
Address
Hickey & Co. Ltd
Parkgate House
Parkgate Street
Dublin 8

Hotline
00 353 (1) 645 8200
Contact
hf-sales@homefocus.ie
Shipping costs
Republic of Ireland
Porto: starting at €5
Free shipping starting at: €50

Return policy
14 days